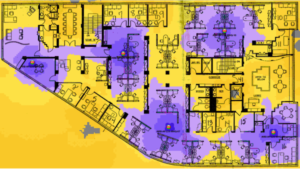 Our Advanced Services offering is a scalable network design, implementation, and management solution that offersa variety of business practical applications. As an "end-to-end" solution, we offer comprehensive wired and wireless network design, implementation, and support programs. Our network engineering team can perform predictive site surveys for access point placement as well as on-site heat mapping to verify network coverage after installation. We also offer 24/7 tech support both during installation as well as an ongoing Managed Services offering that covers your devices long term. Whatever your network needs, the Federated Service Solutions (FSS) Advanced Services team has you covered.
HOW CAN WE HELP?
Full Implementation of Wi-Fi networks
Network Cutovers and Integrations
Device and Network Configuration
VLANs and Subnetworks
Troubleshooting and diagnostics
WHY ADVANCED SERVICES?
Free up your IT team to focus on other initiatives
Better engagement with your customers
Full utilization of network options through best practice design standards
SERVICES OFFERED:
Predictive Site Surveys and Heat Maps – FSS will design the wireless infrastructure to meet best-in-class standards while ensuring full target coverage to meet your needs. Post installation we offer heat maps that use real time data to confirm network performance
Network Installation and Configuration – We have the experts, we'll hand it over ready to go when the installation completes
Device Management and 24/7 Support
Computers, Point of Sale, CCTV Systems, Printers, and Network Equipment
Contact a specialist to get started
Put the humanity back in IT
Your FREE Network Audit Checklist